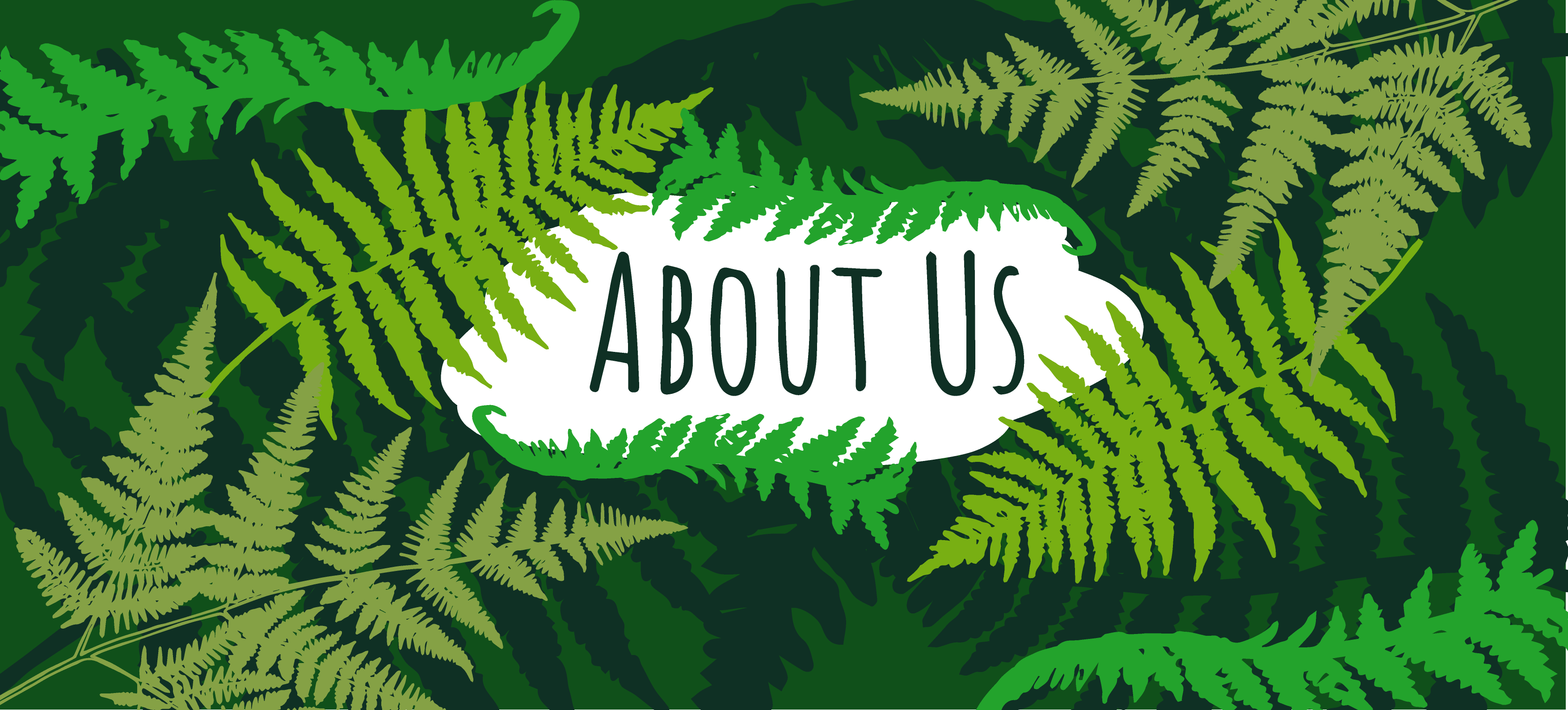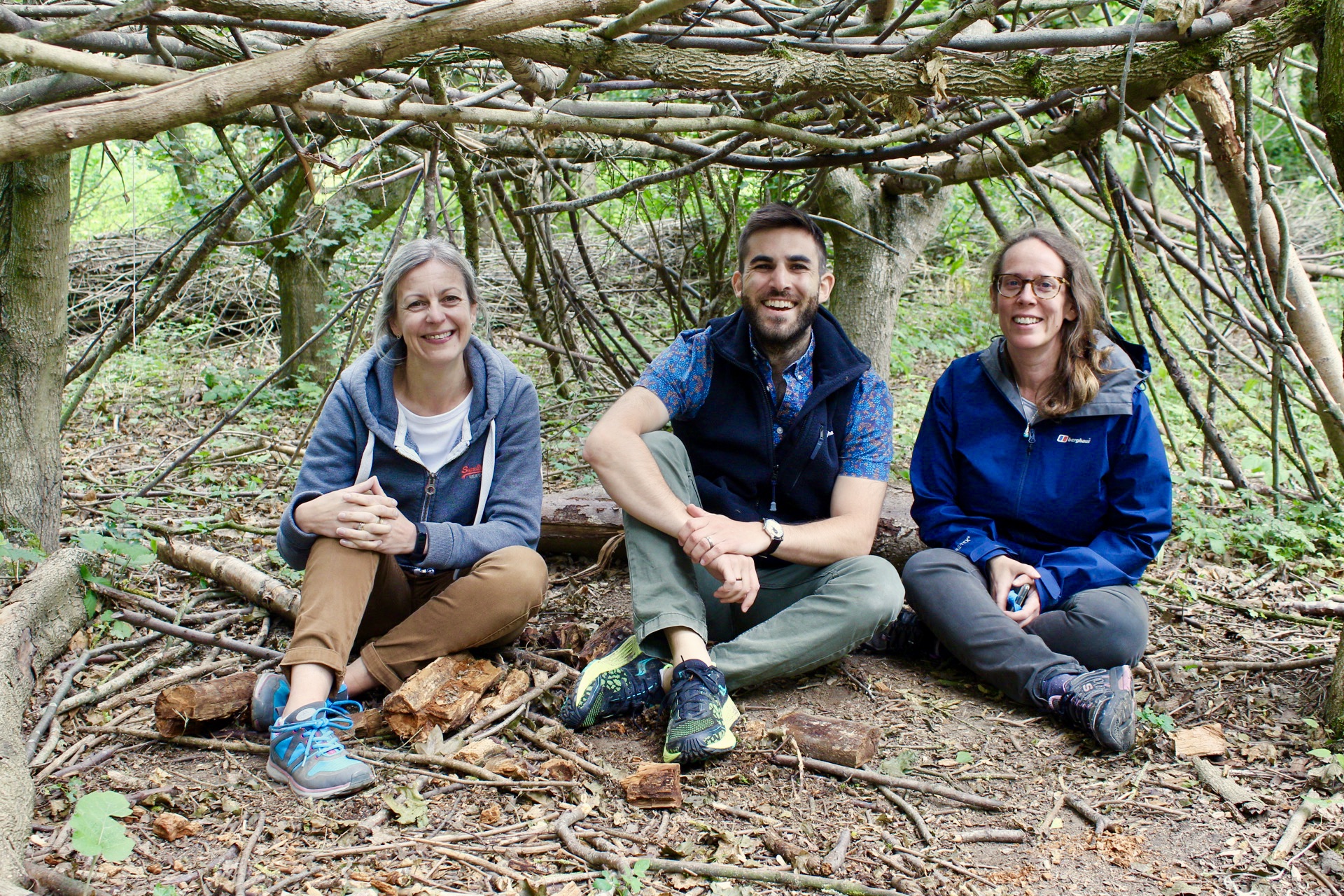 EcoSensory Therapy started as the meeting of kindred spirits. Claire Pemrick, Chris West and Dr. Matt Slavin came together in their quest to work with nature as the co-therapist. It was the start of something extremely special; a vision and coming together of shared minds at the sharp end of research and practice in healthcare. These beginnings have been sewn with love, nurture and passion and offer help and support to those in need through new and ancient ways. We hope that when you join us, you too will feel this 'return to home' that has been sewn into the very foundations of EcoSensory Therapy.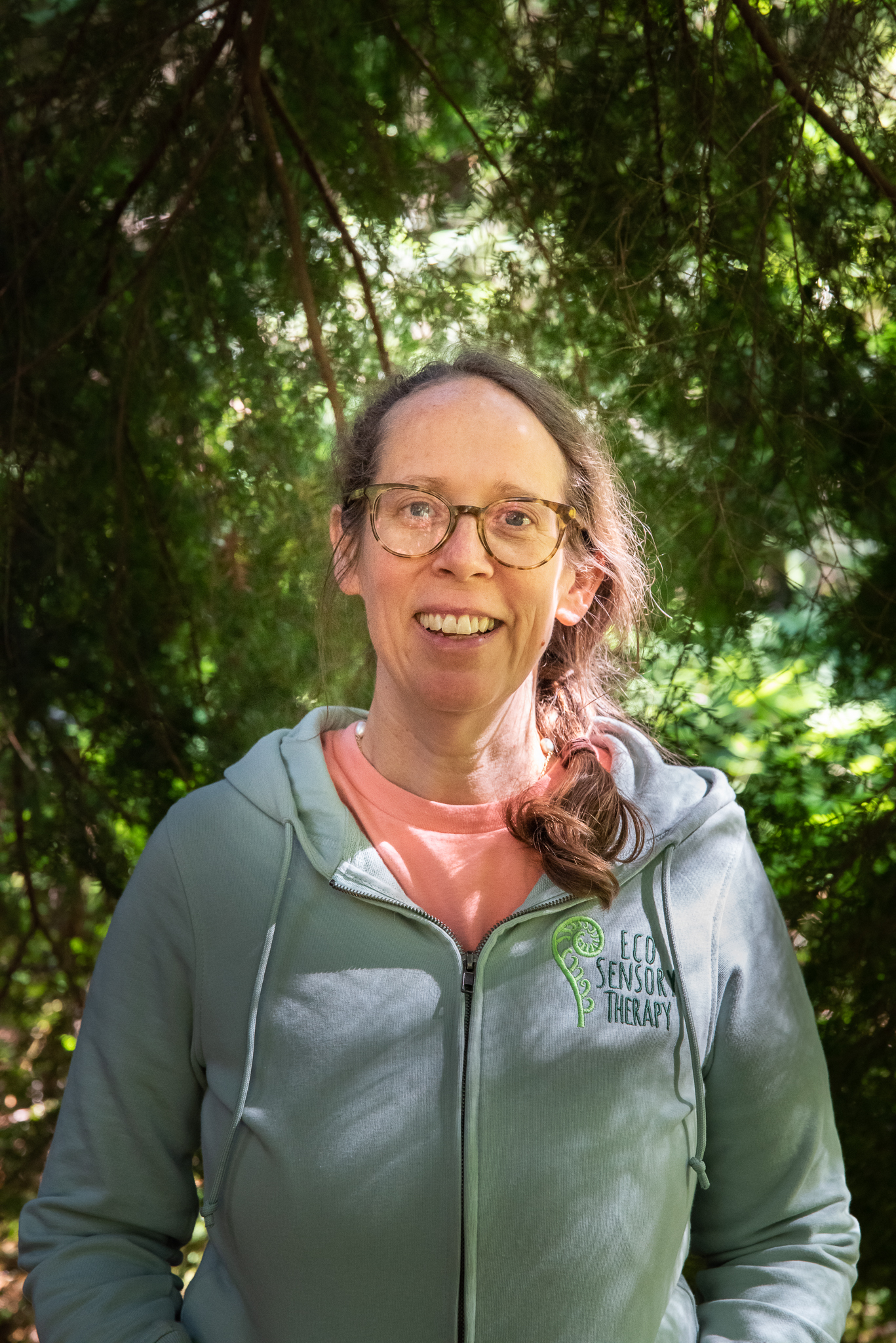 Claire's Story
In my memories of childhood I am outside, in the woods or mud camp, climbing trees, tramping through the fields with the heavy clay sticking to my boots. The domestic dramas dissipated when my family were outside. Nature regulated us all.
When my children were small, we all loved building dens in the woods, walking in the fields and swinging on a rope swing. We bought a house in the country and the kids went to the small village school surrounded by fields. Slowly, insipidly though, even in this country ideal, we all started to spend less and less time in nature. 
Rabbit holes in the school field stopped the teachers allowing the children to play on the school field. The lack of pavement for walking,  meant we drove instead and devices became more interesting than digging mud pits. I sat at my computer, behind the wheel and worked indoors in a custom-designed 'sensory enriched' therapy centre.

This indoor life was not one we planned there was nowhere more 'sensory enriched' than nature. I started to think how could I move me, my children and even my therapy practice outside. The seed had been planted, but like every seed to grow it needs water and sun. For this seed this came in the form of Chris and Matt.
For me, time in nature has always been something special and sacred. I spent a childhood in forests, mountains, oceans and fleece sleeping bags, and I feel extremely blessed that the great outdoors was presented to me as a wondrous place. It sparked in me a great passion to explore and to leave the bustling city; to stomp up muddy hills, to climb up rocky faces, to ride the ocean's surf and to dive into the depths of waters. 
EcoSensory Therapy is the start of something incredibly special. In my research and practice, I have witnessed first-hand the therapeutic power of nature and with Claire and Chris, it feels like the coming together of kindred spirits. Returning to nature, always feels like a return to home and this project of passion feels no different. With clinical foundations and nature as our clinic space, I am so excited to be part of and bear witness to EcoSensory Therapy's journey and story.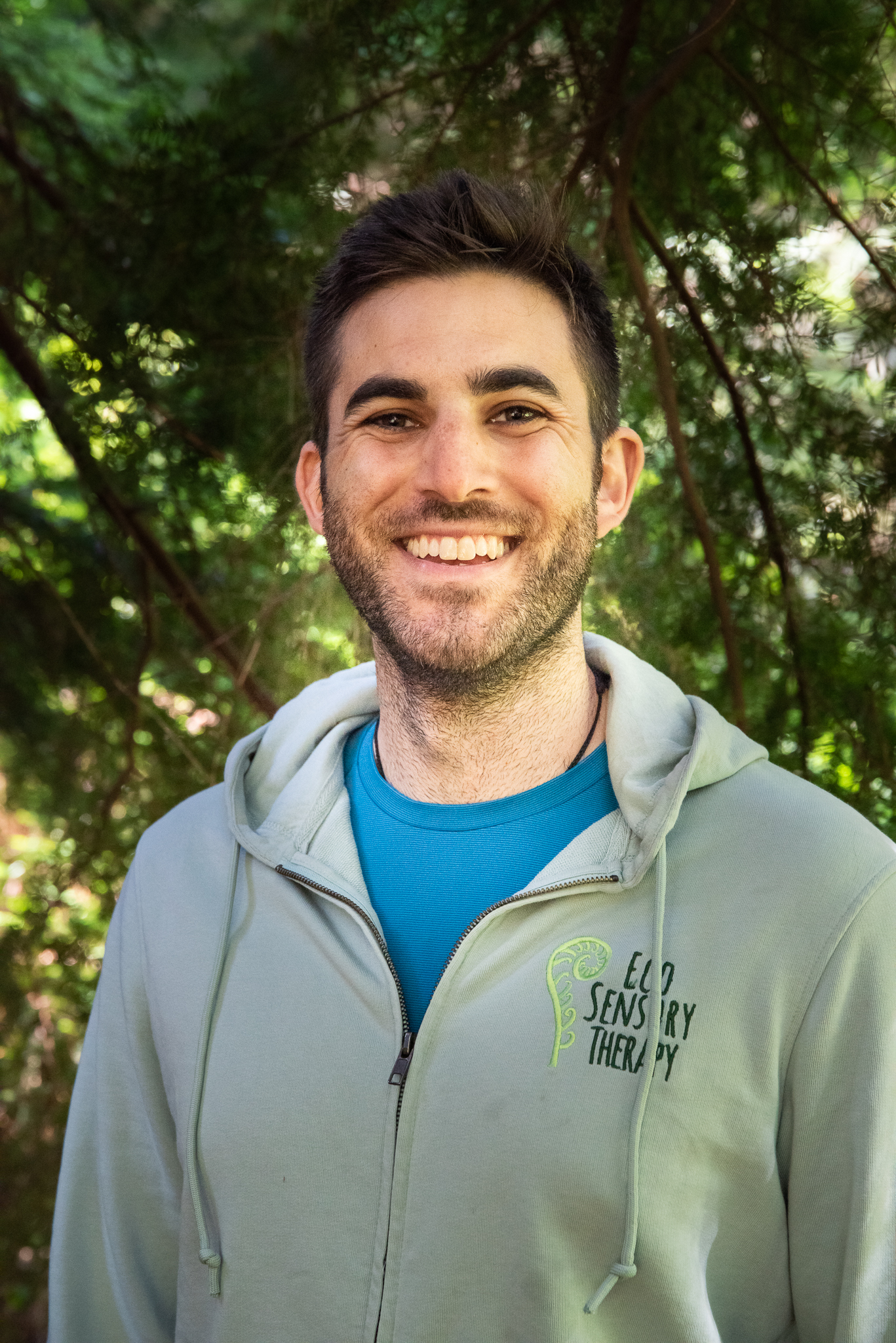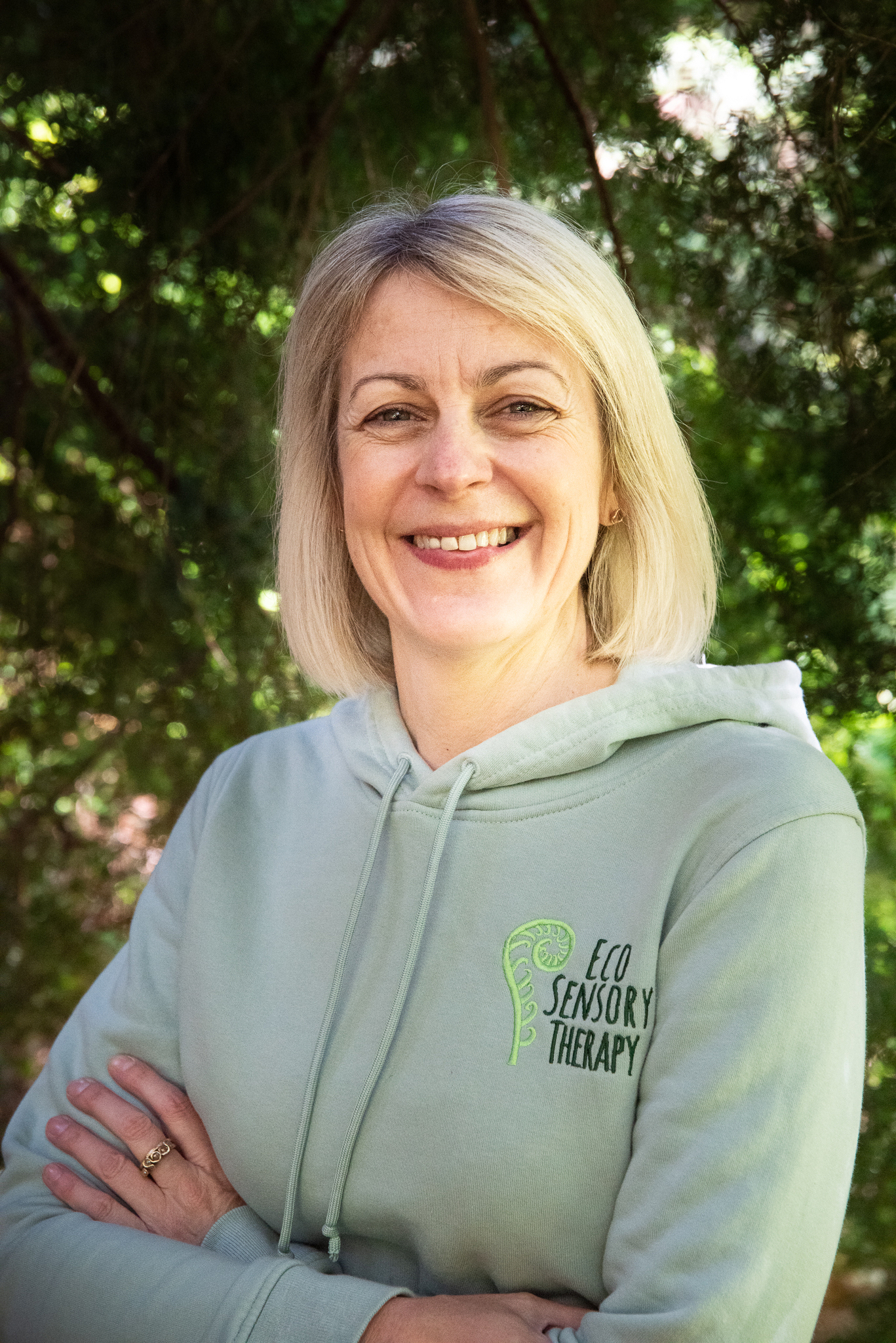 Chris' Story
My love of nature began on the beaches in Devon with my family as a child, then onto the moors of Dartmoor and Exmoor, the gardens at Ash Cottage, and Boadicea's dyke, before the journey with Claire through the forests of Devon, culminating in a coming together of minds in the form of EcoSense team with Claire and Matt. It is through all of these experiences that I felt the joy and sense of nature; its gentleness, stillness, power, and tranquillity.

The opportunity to create a piece that provided the opportunity to enable others to explore and consider the outside space as therapy is something I feel incredibly passionate and excited by, going back to our roots of nature and the earth, with all that it offers and gives us – coming to and using our senses to feel connected and alive to ourselves and others.
Mercedes' Story
Mercedes recently relocated back to Devon, from London, with her husband and daughter having made the decision to provide their family with the enriching environment that she and her husband grew up in – the beautiful beaches of Devon and the enchanting Moors. Working for EcoSensory Therapy has given her even more of a desire to be in the outdoors for the benefit of both her and her daughter.
Mercedes previously worked in Private Equity in Mayfair where she was the Executive Assistant to the CEO and Office Manager. She now works part-time alongside being a Mum. Mercedes is the main point of contact for all EcoSensory Therapy queries and assists the team in whatever capacity is needed to ensure the effective running of the business and more importantly the courses for our EcoSensory trainees.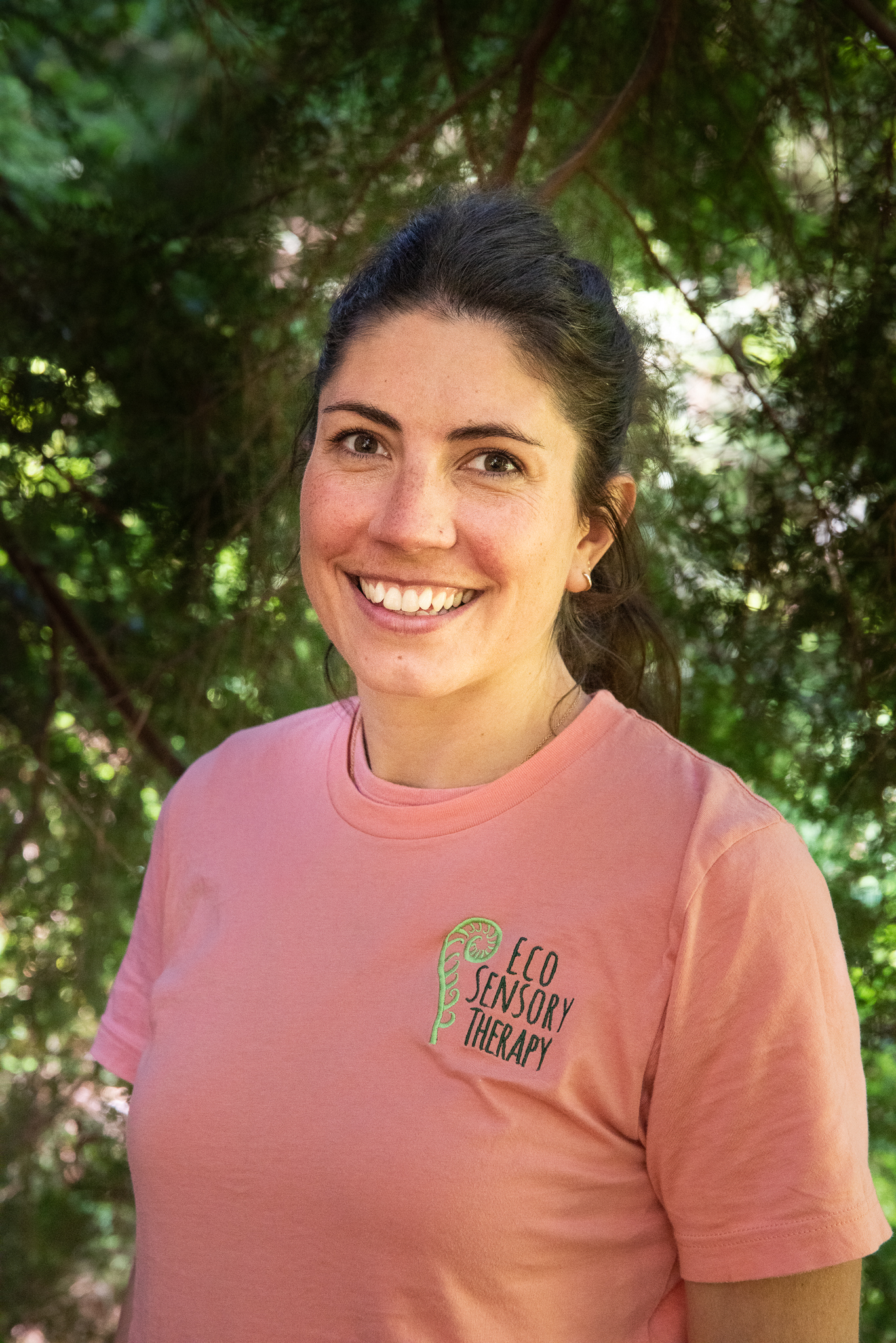 Layla's Story
Layla lives in Devon with her husband and children.  As a busy Mum of three, Layla's family enjoy downtime together going for family walks in the local areas with their dog Ted, spending the day on the moors or at the beach especially North Devon or Cornwall, although downtime is very rare, they find a day out in nature is just what the family need.
Layla works in a Children's Home providing Admin support to the Health & Wellbeing Team and has joined EcoSensory Therapy to support the team whilst Mercedes is on maternity leave, she will be the point of contact for queries and will assist the team in the running of the business
Chris West
Occupational Therapist
Co-Founder and Director
Chris is a HCPC registered Occupational Therapist, with over 25 years experience of working with children and young people with a range of needs, including child and adolescent mental health, children who have been adopted and have sensory integration and attachment difficulties, and children with special needs.
Chris is the director of an Adoption agency in Devon, UK and has a specialism in working with children and young people who have sensory integration and attachment difficulties as a result of developmental trauma.
Chris has undertaken advanced level training in both Sensory Attachment Intervention (SAI),  and Sensory Integration (SI). Chris is passionate about supporting children who have experienced developmental trauma to develop enhanced co-regulation and self regulation, and to work alongside those caring for and working with them to develop a greater understanding of how to support them.
Chris is a trainer in the SAI approach, and delivers this, along with other sensory informed training, to a range of parents and professionals.
Dr Matt Slavin
Clinical Psychologist
Co-Founder and Director
Matt is a Clinical Psychologist (DClinPsych, CPsychol, MSc, MSc, BAHons) who has worked with people and groups across the lifespan within health, social care and organisational settings. He is registered with the Health and Care Professions Council (HCPC) and is a Chartered Member of the British Psychological Society. 
Matt offers supervision on clinical work & nature-based practice, as well as individual and systemic support (online, in-person and in-nature), workshops and trainings on subject-matter expertise and consultations on subject-matter expertise. You can read more about Matt's approach and offer of support at: https://www.drmattslavin.com
Matt started his career with a passion for the outdoors, using adventure activities and experiential learning to support vulnerable and neurodiverse children and young people, as well as adults who had faced trauma, adversity and chronic health issues. Matt completed his Masters and Doctorate in Clinical Psychology with theses focused upon the therapeutic benefits of nature. He is a firm believer that in our efforts to reduce suffering and alleviate distress, as well help individuals grow towards their vision and goals for life,  Clinical Psychology and mental health settings need to think "outside the clinic" and to work with the natural world as our therapeutic space – our evolutionary and ancestral 'home'. 
Claire Pemrick
Occupational Therapist
Co-Founder and Director
Claire is an Occupational Therapist and the director of Jump Start Centre, a specialist Sensory Integration and Sensory Attachment centre in Essex. You can read more about Claire's approach and offer of support at: https://www.jumpstartcentre.co.uk/
Claire has over 20 years of experience working with children both in the UK and the US. She holds degrees in Occupational Therapy (BA Hons), and Communication Disorders (BA Hons). She has Post graduate Diploma in Sensory Integration and is an Advanced Practitioner, a Mentor to level 4 students, and was previously the co-editor of the SI networks e-newsletter emphaSIze. Claire is a visiting lecturer at the University of Essex and is a trainer and on the board for Sensory Attachment Intervention.
Claire has many years of experience working with children who have experienced trauma, and have attachment difficulties, supporting both the children and their carers. She is Sensory Attachment intervention trained and currently training in Internal Families Systems.
Claire's passion for using nature as a therapist led her to train as a Shinrin-Yoku (forest bathing) practitioner and loves to take her clients on EcoSensory sessions in the local forests and beaches around Essex and Suffolk. Claire loves gardening, and runs a small holding, which is the home to the Sensory Attachment training in England.